Our services are easy to order. Just give us a call or email us, and we can make sure you get to your destination safely and on time.
Boothroyden are quality horse haulers and have been transporting horses safely since 1992.
All our drivers and grooms hold a competence certificate.
Our vehicles hold a certificate of approval under the welfare of animals during transport regulation as required under the D.E.F.R.A. scheme.
We use quality modern wagons which are fully licensed and insured. Our aim is to provide a stress free horse transportation service in the knowledge your horse is safe and secure.
All our drivers and grooms are knowledgeable and comfortable around any horses from racehorses to shires or stallions, mares and foals. All our horseboxes are fully equipped for all your horses needs.
We transport anywhere in the UK with single horse or shared loads. Up to eight horses with overnight stabling if required. See our Shared Loads page for information on shared loads coming up
All
Horse Boxes
Horse Transport
Horses
Shared Loads
Welsh Cob
Boothroyden Horse Transport have a full range of horse transportation vehicles to suit every eventuality. Contact us today to discuss how we can fulfil your horse transport needs.
We are always very busy and Shared loads are always available (usually within 1 week). Please call us or contact us through our contact form for a quote on your requirements. Individual transport at reasonable prices within a couple of days.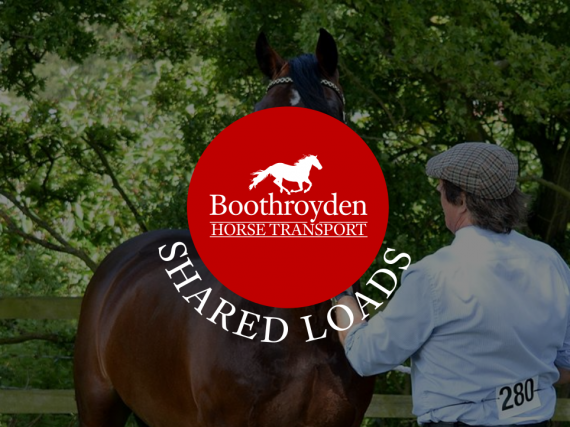 W/C 6th May 2019 Friday 10th May we have a 2 Horsebox in Aberdeen heading South Please ring / txt 07710837472 for a quote ...
Read more
Resent Events
W/C 6th May 2019 Friday 10th May we have a 2 Horsebox in Aberdeen...
Northwick Napoleon 2012 Welsh Cob Sec D Stallion www.boothroydenhorsetransport.co.uk
Boothroyden Mathias 2013 Welsh sec D Stallion Picture as a 4yr old www.boothroydenhorsetransport.co.uk
TESTIMONIALS
Sean big thanks for today! Am very impressed with your driver, he even phoned ahead to warn us of the loading situation. We would not hesitate to use you again and we will definitely be recommending you to any one who asks.
Speak to one of our experienced staff today to discuss your horse transportation requirements.
We Are Always Here to Helps You!
Our staff are always on hand to provide quotes and schedule details, or even if you need some advise.  Call us today to find out how we can help.
Mobile: 07720 634 392 / 07710 837 472
Transport Manager: Peter Graham
0161 653 6483
Address: 
Boothroyden Cottage, Higher Blackley, Manchester, M9 0SB
Email: 
Social: 
Office Hours
(Available 24/7 For Emergencies)